One of the unique and enjoyable sports that children of all ages can participate in is 'glow in the dark bowling,' which uses glow-in-the-dark bowling pins that can be readily created at home or purchased commercially at bowling establishments.
Traditional bowling has some drawbacks for young children — the balls used can be rather heavy for more minor children, taking a young family bowling can be a headache, and the game is not inexpensive.
'Glow in the dark bowling' or 'cosmic bowling' is an activity that provides hours of amusement for the entire family and children, all in the comfort of your own home, and eliminates the problems connected with regular bowling, as mentioned previously.
What is Glow Bowling?
Cosmic bowling occurs at a bowling alley and utilizes unique bowling balls that glow when exposed to direct light for specific periods.
While various manufacturers have developed glow-in-the-dark bowling balls for use in cosmic bowling, Brunswick presently holds a monopoly on glowing bowling balls.
Bowling pins are frequently illuminated from the side or painted with glow-in-the-dark paint for added effect.
Additionally, poppy, high-energy music is constantly played, providing a setting conducive to extensive Instagram and TikTok posting.
And if you lack the funds to visit your local bowling alley and arrange for a night of cosmic bowling, you can design your glow-in-the-dark bowling set for plenty of homemade fun!
We'll get to that later, but first, let's take a look at the best glow-in-the-dark bowling balls from Brunswick for your next cosmic bowling adventure.
Top 6 Glow-In-The-Dark Brunswick Bowling Balls Worth Buying In 2022
As an Amazon Associate, I Earn From Qualifying Purchases
Brunswick Snake Glow Ball
This glow-in-the-dark bowling ball bombshell eliminates the need to crawl on your backside. I love the menace in the snake's eyes and how the design pops when bowled down a cosmic lane.
Brunswick consumers seeking a competitive edge with their lighted bowling ball may consider this.
Brunswick Lizard Glow PRE-DRILLED Ball
This ball is made of high-quality polyester and features an embedded picture. Brunswick's viz-a-ball also glows when used in low-light circumstances — courtesy of its special edition 360-degree graphics.
This ball is suited for casual bowlers as well as beginners. Additionally, it can be used by skilled bowlers who enjoy throwing them straight and knocking them all off! The bowl comes with a matching lizard t-shirt and a towel.
Brunswick Spiral Glow Ball
The simplicity of this bowling ball's lighting spiral design is belied by its vibrant colors and resonance in the dark.
Blue and yellow begin to merge into a dizzying effect when this ball gains momentum. It's a joy to drive this polyester beauty and even more enjoyable to see it roll down the lane.
Brunswick Butterflies Glow PRE-DRILLED Ball
This innovative glow-in-the-dark ball's sparkles and color scheme are real pleasures for those with more delicate tastes.
This ball resembles a Lisa Frank sticker pack that comes to life in the greatest possible manner. Nothing about this ball is surreal, and the way it floats toward the pin is truly ethereal.
Brunswick Shark Glow PRE-DRILLED Ball
If you prefer Jaws to Snakes in a Plane, then this savage glow-in-the-dark shark bowling ball is perfect for you. The bowling ball artwork is stunning and will undoubtedly raise some attention on the ball return.
Circulate the waters of your neighborhood bowling alley with the bowling ball ocean's most dreaded creature.
Brunswick Hearts Glow PRE-DRILLED Ball
Another Brunswick ball that cranks up the cute factor to eleven is the ideal glow-in-the-dark option for showing your heart(s).
If you want to infuse your local bowling alley with a little bit of love and enchantment, get this ball from your preferred online marketplace. It will bring a case of warm fuzzies to everyone in the vicinity.
How do I make My Own Glow-in-the-Dark Bowling Balls at Home?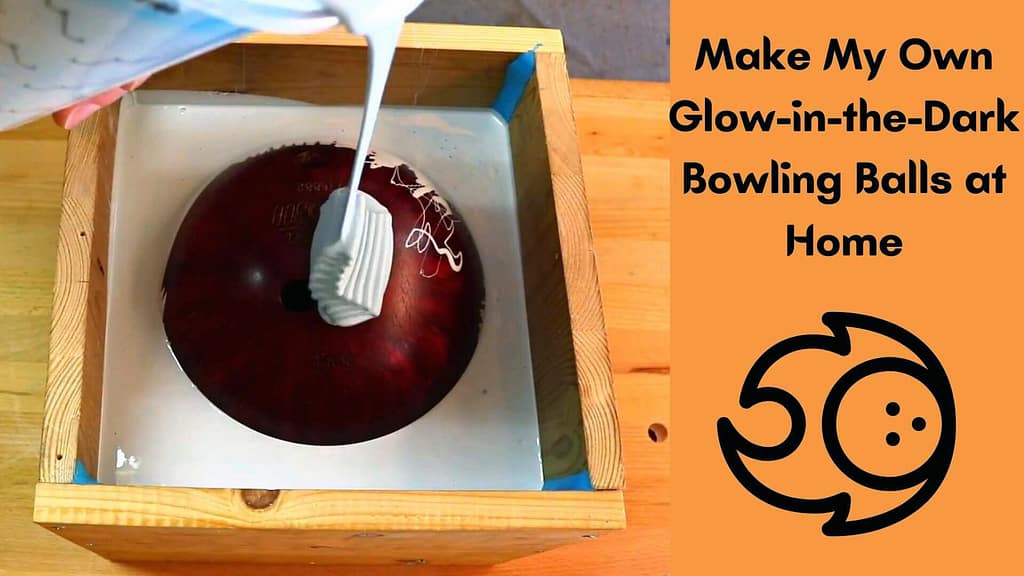 Glow balls can be created using glow sticks (as explained previously) or with the assistance of dark spray paint and acrylic glow paint. If you choose the latter option, there are three distinct ways to create a homemade light ball.
Paint Sprayer
Spray the tennis balls with readily available spray paint. You can use empty glass jars from the recycling bin to hold the balls while spraying for added convenience. After the paint has dried, flip the ball over to paint the underside.
The glow of the Fluorescent
You can also create this type of glow with spray paint, following the same procedure as described above.
Glow Neon
You can use plastic balls to create a neon glow and paint them with commonly available acrylic glow paint.
You can use empty glass jars from the recycling bin to hold the balls while spraying for added convenience. After the paint has dried, flip the ball over to paint the underside.
Check Also: How to Polish a Bowling Ball at Home.
Frequently Asked Questions About Glow in the Dark Bowling Balls
How can I Create Glow-in-the-Dark Bowling Pins?
Making glow-in-the-dark bowling pins is simple if you have some spare time (and inventiveness). Proceed directly to the plastic water bottles.
If you have ten bottles sitting around or can obtain them from a local store, all you need to do is insert glow sticks into each one and arrange them like regular bowling pins.
You may add weight to your driveway or family room with sand or rocks and construct your version of bowling lanes.
With a new supply of glow sticks and water bottles on hand in case anything is destroyed, you and your friends and family can spend hours playing glow-in-the-dark bowling and never get tired of it!
What is the Term For Glow-in-the-Dark Bowling?
Millions of people flock to bowling alleys each year to participate in glow-in-the-dark bowling, inserting their thumbs and forefingers into the finger holes of glowing bowling balls for a thrilling experience.
Glow-in-the-dark bowling, on the other hand, has a dual identity. You've almost certainly heard glow bowling referred to as cosmic bowling. They are identical! Consider giving a friend or family member who enjoys bowling the gift of cosmic bowling for their birthday weekend. They're going to adore it.
Final Opinion
Glow-in-the-dark bowling is one of the most popular forms of the sport for a reason. Your fingertips will sweat, but it's the ambiance of light bowling that creates lifelong memories. You can either order a glow-in-the-dark bowling ball from the list above or design your own. Regardless of your choice, you'll be able to have a fun-filled excursion into the outer bowling space.
Hello everyone, I'm Sonjay Chowdhury.
Bowling for Beginners is a resource I made to help new bowlers learn the basics of the game, whether they're just starting or hoping to make it as a professional.
I'm an aspiring bowler with a strong passion for the game. I started playing the game at a very early age, and it's been an integral part of my life ever since.
The start was not as easy as many hurdles to becoming a professional bowler. However, if you're passionate about something and have the guts to work your way, then there's nothing in the world that can stop you.
However, I eventually overcame the barriers, and right now, I'm a member of many prominent bowling clubs around the country. For me, bowling isn't just a hobby; It's instead a passion that's embedded in my veins.
I've chosen to commit a good deal of my time to assist anyone interested in learning to bowl. If your objective is to bowl more strikes and increase your scoring average, or if you want to learn more advanced techniques and skills, I have enough resources for you as well.
I hope everyone who wants to bowl may learn to like it.
Happy Bowling!